(This page was inspired by Derek Sivers. Consider one for yourself.)
These days, life in Tokyo, Japan is an ongoing adventure, with my partner of 23 years and our two adorable poodles. It's almost cherry blossom season, so best to come to Japan around this time if you're planning a visit.
I teach university-bound students at Mustard Seed Academy in the heart of Tokyo. It's really an honor and privilege to be shaping the lives of the future leaders of Japan. I spend my days developing curriculum and studying to be a better teacher and role model.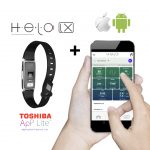 I'm a gadget guy, so lately, I'm awaiting the delivery of my order of the new Helo LX. Can't wait! I got the family pack so as to monitor the health of my parents and siblings who live back home in the States.
Recently several people close to me have either died or experienced death of loved ones close to them. I've been touched by their lives and have been pondering the significance of my life in light of my mortality.
I begin my day with an ice cold shower. I've scheduled my day to the minute. I follow a strict schedule from 5AM to 12 Noon of utmost urgency. After that I can let my hair down.
Toward a life well-lived, I choose to live with intention, to love rather than fear, to laugh and to cry, and to find wonder, beauty, and the good in every moment. Toward that end, I may not have all the answers, but I have committed to sharing what I've learned with the world thus far with the world.
Oh, yeah… and be a little silly and not take life so seriously. 🤣
Your turn! Tell me, what do YOU think? I wanna know!